Ten children remain in intensive care as police prepare five homicide charges against the man who drove a red SUV through a Christmas parade in the US.
Police Chief Daniel Thompson identified the person in custody over the incident as Milwaukee resident Darrell E Brooks, 39.
He told reporters the incident was "not a terrorist event" and the authorities were drawing up five charges of intentional homicide against Mr Brooks.
"We have information that the suspect, prior to the incident, was involved in a domestic disturbance," Chief Thompson said.
He said the suspect was not being pursued by police when the SUV cut through the parade on Sunday.
Mr Brooks is an aspiring rapper and uses the name MathBoi Fly on his Twitter and other social media accounts.
On a YouTube page, a video that has since been removed showed him rapping in front of a red Ford SUV resembling the one at the parade.
Court records showed Mr Brooks was on bail for unrelated matters after posting a $US1,000 ($1,383) bond earlier this month.
He was previously charged with restricting or obstructing an officer, bail jumping and battery.
The District Attorney's office released a statement on Monday detailing the pending charges against Mr Brooks and said it was conducting an internal review of the decision involving Mr Brooks's bail recommendation.
"The state's bail recommendation in this case was inappropriately low in light of the nature of the recent charges and the pending charges against Mr Brooks," said the statement, which did not refer to the parade incident.
Police identify victims, reveal children in critical condition
Chief Thompson said 48 people were injured.
Children's Wisconsin hospital officials said it treated 18 children, including six who remained in critical condition and three in serious condition on Monday. The rest were in fair condition or released.
Most of the children, whose ages ranged from 3 to 16, were initially taken to other local hospitals and were subsequently transferred to the children's hospital for its specialised paediatric care.
Three sets of siblings were among the injured being treated.
"Injuries ranged from facial abrasions to broken bones to serious head injuries." Dr Meyer said.
"Six of these patients were sent to the operating room last night and two additional patients are undergoing surgeries today."
"Six of these patients were sent to the operating room last night and two additional patients are undergoing surgeries today."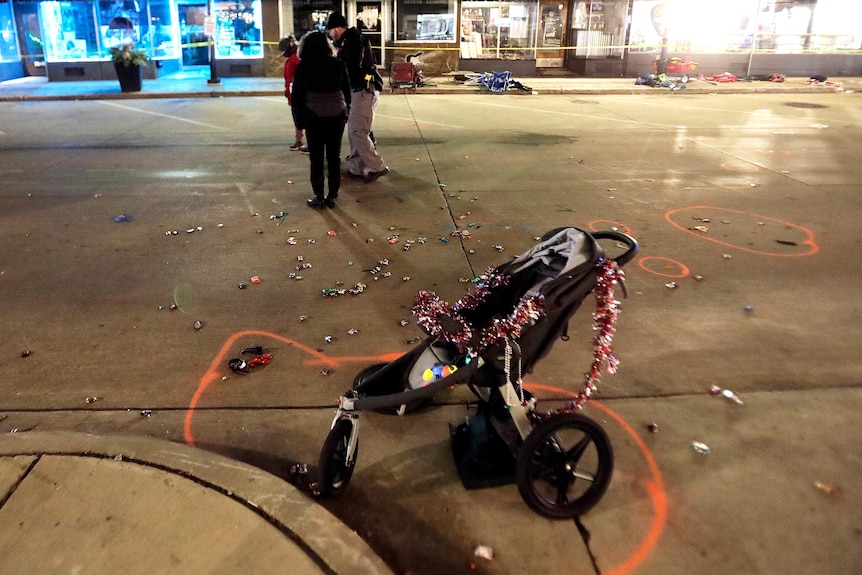 Dr Meyer said 10 children were admitted to intensive care.
"We also have eight other patients that are listed in fair condition that are not in the Intensive Care Unit and are in other units within the hospital."
Dozens of orange evidence circles were painted on the street and most shops were closed in the city's downtown district.
A woman tied a bouquet of flowers to a street post as police officers blocked intersections along the main road.
A video posted online showed a red SUV racing alongside and into the parade, appearing to run over more than a dozen people before crowds ran from footpaths to help.
An officer fired shots at the vehicle in an attempt to stop the carnage. Another video on social media appeared to show police firing on the vehicle as it crashed through street barriers.Police did not believe shots had been fired from the vehicle.
Schools would remain closed on Monday and additional counsellors would be available for students, the district superintendent of schools said. Authorities said a fund for the affected families had been set up.
The parade, held each year on the Sunday before Thanksgiving, is sponsored by the city's Chamber of Commerce. This year's event, the 59th, had the theme of "comfort and joy".
[starbox]